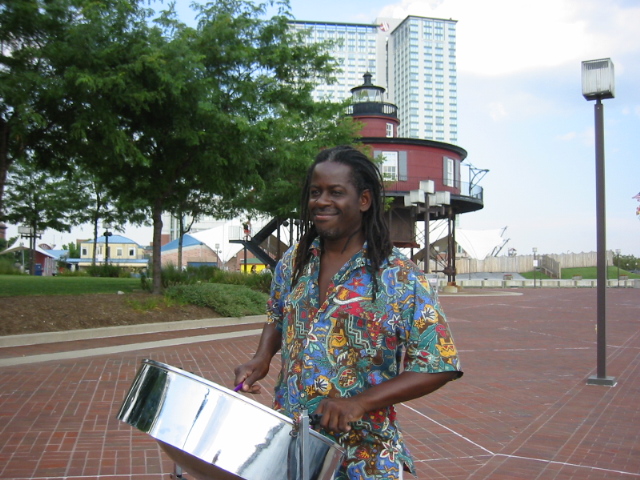 Caribbean Musician
Orlando Phillips, born in the U.S., has a Caribbean background. His mother was born and raised in Panama Central America, and his father is from Trinidad & Tobago providing an authentic influence to his music.
Orlando's flagship instrument is the Tenor Lead Pan (Steel Drum). He plays everything from Bob Marley tunes to Calypso and Soca on his Steel Pan directly imported from Trinidad!
Orlando's very first instrument was the Clarinet. At the age of fifteen he learned to play the Saxophone, and the next year he picked up the Bass Guitar. He impressed many professional colleagues with his masterful Bass Guitar performances with Starpoint. Raised in a home with a piano he has played the keyboards all his life.
Orlando is also an original vocalist, bass and sax player for the nationally acclaimed group, Starpoint, most known for the song "Object of My Desire", a top 25 pop hit on the Restless album. At a Madison Square Garden performance, he received a gold album (half million sales) for that LP. (Starpoint Videos on YouTube) Orlando also recorded on the multi-platinum debut LP of Grammy Award winning artist, Toni Braxton, and has performed in the company of several well known groups including Patti Labelle, Ashford&Simpson, Kool&the Gang, Natalie Cole, Luther Vandross, Morris Day of the Time, Blackstreet, and many more. Before performing solo, Orlando was the leader and lead vocalist for the popular Caribbean music group Mama Jama from 1987-1995.